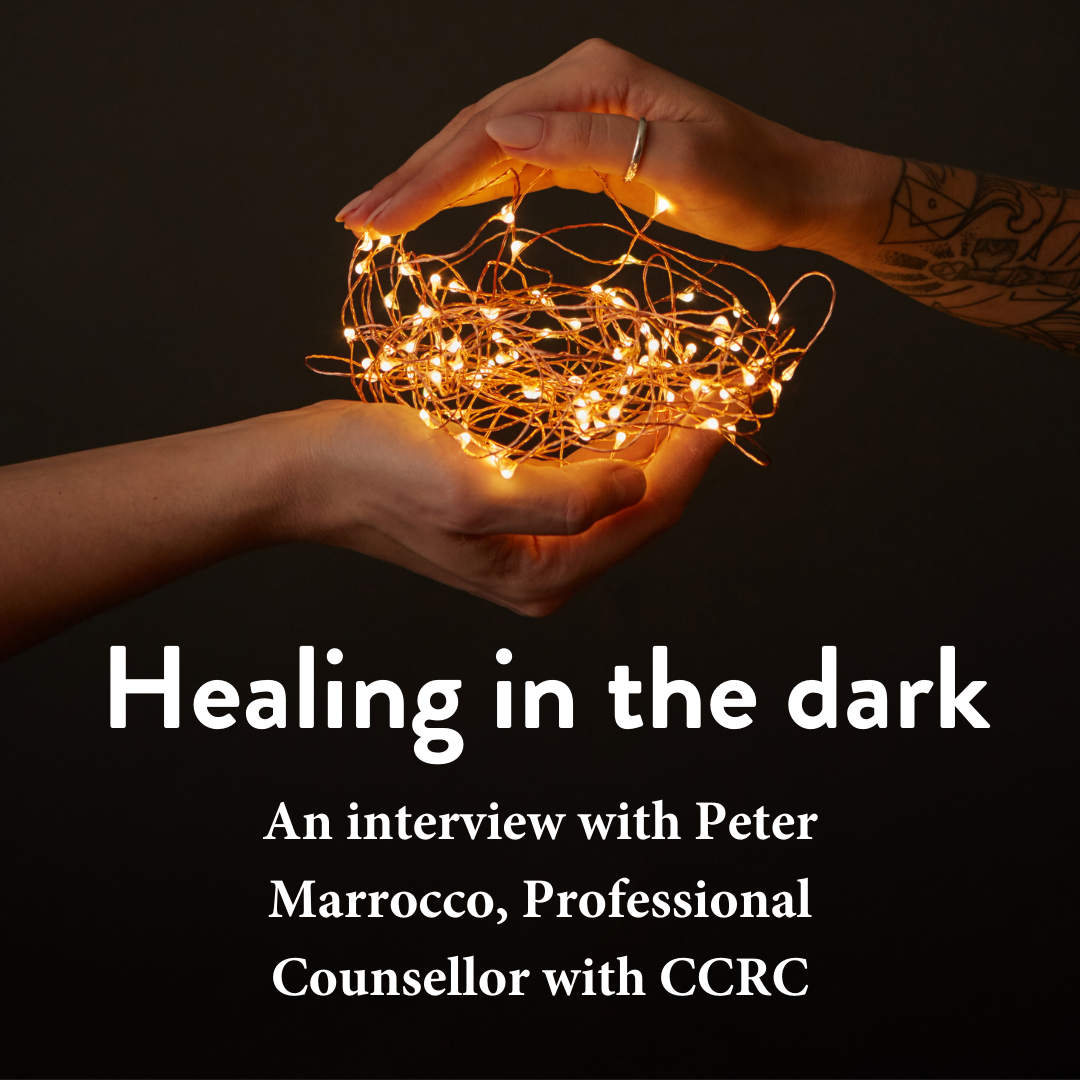 "I consider myself to be a hope-merchant." Says Peter Marrocco, a member of CCRC's Professional Counselling team since 2012. "I believe that there are three main tools we have to help us cope with life that are accessible to nearly everyone: Humanity, physicality and hope. These are tools that we're born with, what we have available to us to cope with life". Humanity being our shared experience of being human, physicality is the movement of our bodies to exercise and expend energy and hope is the ability to see beyond the difficulties of now. In studies of hope over the past 25 years, things like the 'placebo effect' have been used as a concrete measure of hope. "The catalyst for change by sheer force of will; Believing that something will happen, and because I am hopeful, some element of it does."
To be hopeful is also to be vulnerable. "I know a lot of people suffer self-judgement and stigma around vulnerability. So many are so afraid of losing control of their emotions, but that's where change happens. That's where hope lies. I want to bring that hope, that guidance to others." Peter says of his experience counselling and working with people. "At our best, we mentor others, giving them reason to hope that their grief, their pain will get better. This is especially true in group sessions. I can't tell you the number of times I've heard someone say 'If that person is still standing, well, I can too'. Sharing stories like this is also a form of mentoring. Mentoring and interaction are at the heart of Psychotherapy." Peter says of the sharing of our stories. "In bringing our humanity to join with others, we grow our collective wisdom. There is no better tool to cope with the difficulties life presents."
When asked what he's noticing as we continue to move through the pandemic, Peter says, "People are feeling disconnected. The pandemic is intensifying, heightening things that some were already experiencing. On the other hand, for some people, it has been a sort of respite from the things that were making them feel overwhelmed before. For others, those who are very connected socially, it's been incredibly isolating. Some of the worst experiences people have are related to disconnection and feelings of isolation, so maintaining or creating means for connection are vital to moving forward." In counselling, Peter says this process of re-connection can happen through the interactivity of Psychotherapy.
People want to have some sense of agency or control over their future, something which has been disrupted to varying degrees by the pandemic. For some though, it's an opportunity to be better understood. People, who in pre-COVID times felt like they had little control over their lives, this has been a 'welcome to my world' sort of experience. An opportunity for others to understand a brutal reality, 'finally, others might be able to understand what I go through'.
"We're pack animals. There is evolving neuroscience that studies those connections between people. MRI scans of a mother cradling her sleeping baby, both of their brains are lighting up in the same way. Connection is there, but we've never been able to see it before. Body, brain and relationships – when we connect with each other that flow changes. WE are more after. We are finally finding ways to explore these hidden methods of communication, those meaningful connections that we develop and how they affect our mind, body and spirit."
The pandemic is not only affecting our social habits and connections, but it is also making difficult life experiences more complicated. Relationships break-down, people fall ill and we lose people we love, with so much in between. Peter talks about how the cultural expectation we've been exposed to makes this even harder. "We've been taught that if you follow the rules, things will go well, you'll get your happily ever after. That doesn't often doesn't happen. We've been lulled into a false sense of security that modern science will cure all that ails us,that things will just work out. As the pandemic is highlighting, we will all face hardships that we didn't expect at some point. Loss, trauma, pain and the grief that accompanies them are things we'll all face in our lives, to different degrees, and there's no real way to prepare for them or predict how we'll react to them.
"Grief doesn't have to be only pain," Peter says. "It can be the basis of meaningful connection. Grief is a vulnerable place, one that makes us willing to talk about things that have great meaning to us, that we otherwise wouldn't discuss, begging the question: Why can't we have these conversations, make these connections without having to experience this deep pain, loss and grief? While I can't answer that, not even in my own life, I can say that disruptions like grief and loss can open us up to experience life at a much deeper level." Peter says.
Grief, joy and loss are all part of our story, what makes us who we are as individuals navigating this collective experience of life. Coming to realize your own story is a personal journey, and one that doesn't always come easily to people who have had faced trauma. Peter goes on to talk about this process. "For many people, their stories are fragmented, they don't always have a sense of being in their own story. Psychotherapy helps people see themselves as being part of their own story, putting the pieces of it back to together. It allows people to see where they've been, what they've experienced and how they've survived. The process of helping someone put their story back together and realize they are central to it…. It's powerful. Ultimately, we can't change our stories, but we can learn to be ok with them, that is a doable part of moving forward with it."
"When you have good, strong support networks, you will be better equipped to cope with challenges, with grief and loss, while forming deeper connections and cultivating hope. You'll be able to survive, to manage and to grow. For those that don't have those support networks, it can be so much harder."
As he talks about hope, Peter talks about studies that have been done with palliative patients and their families "These studies have shown that hope can be stoked by letting go of expectations, of fear. It can be very freeing." If that can be true for people experiencing the end of their lives. Then it can also be true for people experiencing the disruption the pandemic has caused. A chance to pause and reset, to replace the commitments and activities that typically take up a lot of time with more meaningful conversations with the people we care about. "Healing happens in the dark," Peter says. This is true of both his experience working with people who have experienced trauma, grief and loss, and of the approaching holiday season.
"In our area of the world, the holidays are the darkest, coldest time of the year, one that has become heaped with expectations, many of which are unattainable even in pre-pandemic times. For many people, the holidays represent something they've never had, a gathering of loved ones in celebration. For them, the holidays are something to be avoided". This year more than ever, expectations are going to change. It may be an opportunity for everyone to have some time for healing.
While the pandemic has been disruptive, it's also a chance to grow stronger. "In nature, if a rock obstructs the path to the light, the tree finds another way. If it faces high winds, it grows to be less rigid. That ability to grow around things, to face adversity is something that just strengthens the more we hear stories of other people overcoming similar difficulties.
Peter has several authors from whom he draws inspiration. "Alexander Dumas says – 'All human wisdom can be captured in three words: wait and hope.' When we have good conversations we cultivate hope, meaning, creativity – a sense of meaning. If we focus on these connections with the people in our lives, we are all less isolated and on the path to renewing our own hopefulness for the days ahead."
The Professional Counselling team can be reached by calling (705) 742-4258.  If you or someone you know is struggling with feelings of being overwhelmed, exhausted or stressed, please reach out, our team may be able to help.