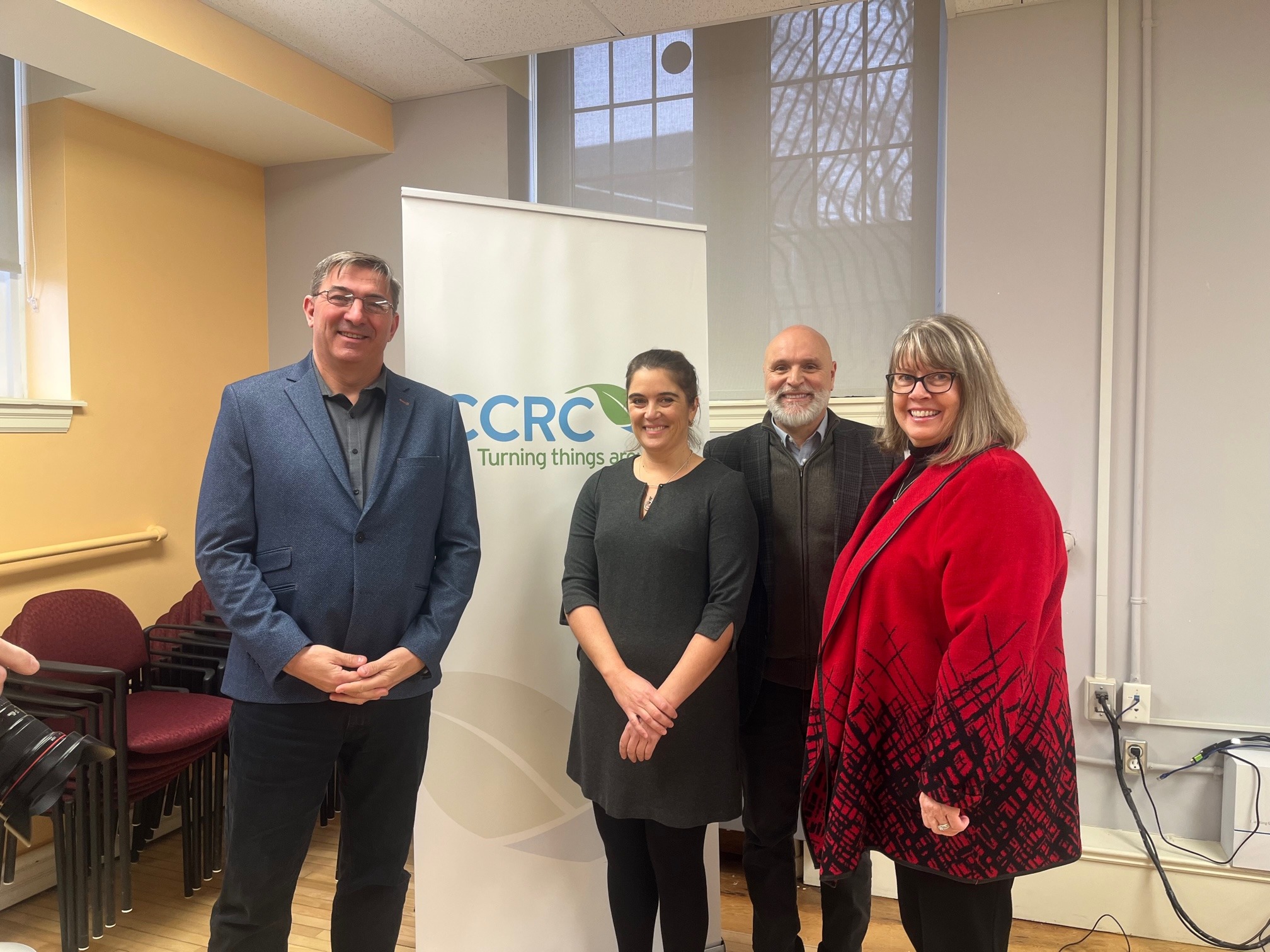 Peterborough, ON – On Friday, February 10, 2023, Community Counselling and Resource Centre (CCRC) welcomed MPP Dave Smith to hear more about the $104,200 Resilient Communities Fund grant it received from the Ontario Trillium Foundation (OTF) in 2022.  CCRC used the funds to work with a fundraising firm to help it develop a fundraising strategy and plan how to create new, sustainable sources of revenue.
"Today's announcement of $104,200 has helped the Community Counselling and Resource Centre to recover from the pandemic", MPP Dave Smith said. "By focusing on new ideas to build for the future, they are able to continue focusing on the important work they do best, helping to support residents in the community," added MPP Smith.
Funding from the grant supported the hiring of a fundraising consultant, staff resources and the purchase of a subscription for a grant database. People from all areas of Peterborough City and County and now Northumberland rely on CCRC to provide them with professional counselling and/or services through the Housing Resource Centre on a low or no cost basis. Fundraising efforts fill gaps in funding but as costs increase, fundraising also must increase to keep pace. Thanks to the $104,200 grant from the Ontario Trillium Foundation, CCRC now has access to the tools needed to grow sustainable fundraising revenue now and for years to come.
"We are so fortunate to have received funding from the Ontario Trillium Foundation" said Kirsten Armbrust, Executive Director of CCRC. "This grant has allowed us to work with a consultant to strengthen our fundraising program. We are committed to the sustainability of our organization and fundraising is an integral part of that process."
CCRC is committed to assisting community members with their housing help and professional counselling needs. For more information about CCRC's services, please visit their website at: www.ccrc-ptbo.com.
The Ontario Trillium Foundation (OTF), an agency of the Government of Ontario, and one of Canada's leading granting foundations celebrates 40 years of grantmaking in Ontario and making a lasting impact in communities. Last year, OTF invested nearly $209M into 2,042 community projects and partnerships, which included funding for the Government of Ontario's Community Building Fund. Visit otf.ca to learn more.
Media Contact:
Kirsten Armbrust, Executive Director
CCRC
705-743-2272 Ext 300
karmbrust@ccrc-ptbo.com